For San Juan Islands Lovers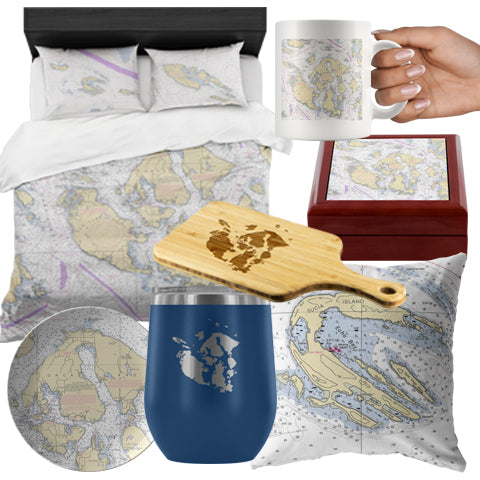 The San Juan Islands. Just saying those words conjures up romantic images of a very special place that epitomizes the rugged natural beauty found in the northwest corner of Washington state. For many Pacific NW boaters, the 172 named islands and reefs that make up the San Juan Archipelago is a perennial favorite place to cruise. Here at Pacific NW Boater TESTED, we visit the San Juans as often as possible, often returning to our favorite places year after year (Watmough Bay, Shallow Bay, Reid Harbor, and Friday Harbor just to name a few).
The San Juan Islands have an undeniable magical quality that is easily understood by those who have spent time on their vessels there. It is for those boaters and fans of the San Juans in general that we have designed products for the home or office (and boat, for that matter!) that celebrate the islands.
Our San Juan Islands Collection includes galley items, canvas wrapped wall art, a bed set, shower curtain, a jewelry box, throw pillows, mugs, tumblers, apparel and more. All with images and charts depicting the San Juans. Something for everyone who loves the islands as much as we do!
Prices range from $15.95 for a coffee mug featuring a chart of the San Juan Islands to the same chart printed on a King size duvet with two pillow shams for $149.95 (Queen size is $139.95).
The San Juan Islands bed set is definitely a favorite. If you dream of the San Juan Islands all year long as we do, this is your perfect bedroom or stateroom bed set! The duvet cover encompasses the entire archipelago. The pillow shams feature popular Stuart Island and the three northernmost isles: Patos, Sucia, and Matia. Both the duvet and pillow shams are made of soft to the touch microfiber fabric. The duvet cover also features a concealed zipper at the bottom, with internal ties in all four corners to ensure your comforter or blanket stays in place (duvet insert not included). The backside color is a crisp, clean white. Duvet is machine washable in cold water on a gentle cycle. The standard size pillow shams (pillow inserts not included) feature a hand-sewn finish with an envelope closure on the back. And while we jokingly say these are not for navigation, you'll be as surprised as we were with the crisp printed detail. <NOTE: Since publishing, the Bed Set is no longer available from the supplier.>
And if sleeping with a chart of the San Juans doesn't quite fit your decor, we also have a beautifully detailed Treasure Map bed set that features the same quality and prices as our San Juan Islands bed set. There's also a Treasure Map throw pillow, and jewelry box that will bring out the pirate in anyone!
But for you lovers of the San Juans, be sure to check out our new San Juan Islands Collection. If you long for time in the islands you're sure to find something to tickle your fancy. Let us know what you like, and if there are products you'd like to see.
---
Leave a comment
Comments will be approved before showing up.